Address : Şenlikköy, Florya Caddesi, Yeşilköy Halkalı Cd. No:93, 34153 Bakırköy/İstanbul
THE ISTANBUL AQUARIUM FAMILY WITH 17,000 PEOPLE ARE EXCITING YOU
Aquarium Istanbul ; When compared to aquariums of its kind, which include fish species living in the world's seas; The newest in the world with its travel route, theming, interactivity, rainforest and new generation technology …
Are you ready to travel on a route consisting of 17 themes and 1 rainforest in total from the Black Sea to the Pacific by following a geographical route?
In the theming of the areas, the cultural, geographical, historical and architectural features of the area, the appropriate decorative elements, interactive games, films and visual graphics that provide detailed information about the area are included. The sound and lighting systems of the spaces were also arranged in accordance with this theming.
Did you know about Istanbul Aquarium creatures?
The red-bellied piranhas in Aquarium Istanbul roam and hunt in flocks, and they can detect a drop of blood in the water from 2 kilometers away.
The Lemon Shark, which lives in the main tank, is the largest creature in the aquarium … Lemon sharks, whose average lifespan is 25 years, neither rest nor sleep during this period. Because as these creatures swim, their gills can pass the oxygen in the water to their bodies, when they stop, their gills cannot fulfill this function and they lose their lives without oxygen.
Russian sturgeon, which you can see in the Black Sea area in Aquarium Istanbul , is one of the rare fish species that have survived since dinosaurs, and is famous for its black caviar. The skeleton of Russian sturgeons consists of bone and cartilage, they have bony scales.
You can also see clown fish, one of the rare fish that can live in anemones, which are poisonous sea creatures. When a fish touches it, the poison secreted by the anemones that poison it and suck it with the toxic substance it secretes cannot pass through the skin of clown fish.
The groupers you can see in Istanbul Aquarium usually change their gender, they can be male or female at certain periods of their lives.
Gentoo Penguins, which you can see in their natural habitat at Aquarium Istanbul , can stay underwater for seven minutes.
Do not miss the opportunity to visit Istanbul Akvaryum, which is the only place where you can see the 2.5-meter dangerous anaconda, which is among the most dangerous creatures in the world, the famous sharks, stingrays, piranhas and many other sea and land creatures we know from horror movies!
In this thematic aquarium, which will introduce you to tens of thousands of land and sea creatures, the existence of which you may not even know, you will wander and explore in disbelief.
What Awaits You at Aquarium
Istanbul
?
An Amazon Rainforest in Istanbul …
This section, which makes the aquarium very special, makes you feel like in the amazon rainforest. The temperature, humidity, the different species you see around, the colorful, tiny but also poisonous frogs, the dwarf caimans, which are the smallest crocodile species in the world, are the kind that will live the atmosphere of the Amazon. You will never forget the nature there, as all the plants on the Amazon come from Costa Rica!
Diving With Sharks
In Aquarium Istanbul , where it is possible to dive with sharks and stingrays in the main tank with a water capacity of 4 thousand cubic meters and where 5 thousand animals live, Istanbul Akvaryum diving certificate is given to those who dive after a 30-minute diving activity.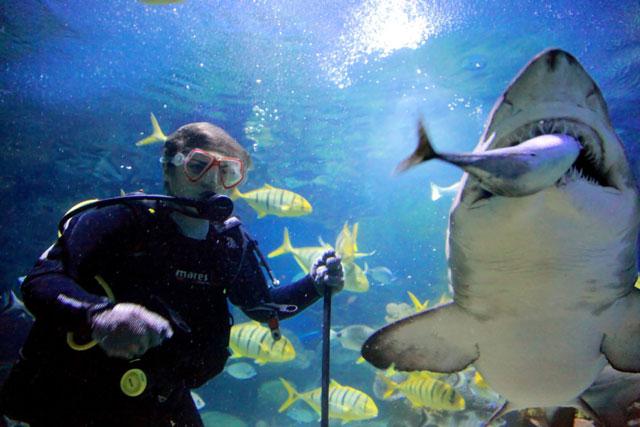 Experience diving with sharks at Istanbul Aquarium, the world's largest thematic aquarium!
Diving With Sharks : 
If the idea of ​​swimming with the most magnificent creatures of the oceans sounds good to you, all you have to do is visit Istanbul Aquarium! You can have an irreplaceable experience by swimming together with these magnificent creatures with shark diving, which is one of the most popular activities in our aquarium, or you can give your loved ones an unforgettable gift for their lifetime.
By diving with sharks in Istanbul Aquarium, you can closely observe more than twenty sharks living in different parts of the world and swim with them. You can experience unforgettable moments with this activity where you can spend quality time alone or with your family and friends.
Anyone aged 14 or over who does not have any disability that prevents diving can participate in the shark diving activity, which is carried out with expert teams. After the dive, a special 'Istanbul Aquarium Diving Certificate' is given to the participants. This certificate is the certificate of participation in the diving activity with sharks and has no official validity.
To experience the Atlantic Ocean in Istanbul, to see these impressive creatures up close and swim with them, all you need to do is contact us… You can contact us by calling 444 97 44 or by making a reservation at dalis@istanbulakvary.com. (For direct transportation, you can get detailed information from 0553 244 8798 between 10:00 – 18:00.)
The diving program will consist of the following sections:
30 minutes of theoretical instruction (Breathing from the regulator, ear equalization, appropriate flipper hitting, basic underwater diving signs, information about the species found in our mothertank.)
15 minutes dressing
30 minutes of diving (with diving instructors taking the divers into the water and starting the dive)
Leaving the water for 15 minutes and leaving the equipment For divers who have not dived for a long time, before diving after being immersed, 5 minutes in the water. The following skills will be reminded throughout.
Proper Breathing Through the Regulator
Ear Equalization
Buoyancy Control
Basic diving signs
Diving Rulls : 
Visitors who have previously booked for diving are required to be at Istanbul Aquarium at the given date and time and confirm their reservation from the information section.
Visitors under the age of 18 who want to dive are required to come in the company of their parents (mother or father), give their parents' written consent and show their identity for age confirmation.
All equipment required for diving is provided by us, and no external equipment is accepted under any circumstances.
The diver registration form that will declare that the person who will dive does not have any obstacles before diving must be signed.
The diving person must comply with the standard diving program. Diving with sharks is carried out by following the route determined by the diving team of Istanbul Aquarium, and actions such as leaving the instructors during diving, trying to touch or touching the creatures in the aquarium, feeding the living creatures, following them, blocking their paths are strictly prohibited. has the right to stop
In addition, diving from outside is followed by an instructor.

Air travel should not be made within 24 hours before and after diving.
Next to the person to dive;
Swimsuit,
Towel,
Slipper,
USB Flash Memory (Videos taken during the dive are delivered after the dive.)
It is suggested to bring supplies such as shampoo and shower gel. In cases where they are not brought, other items except swimwear and flash memory can be obtained from Istanbul Aquarium.
Reservation And Fees : 
For a short time, the diving fee is 637,00 TL for a person with 15% discount instead of 750 TL including VAT . Aquarium entrance ticket and videos taken during the dive are included in the fee.
Our visitors who want to dive have to make a reservation for weekday dives until 12:00 noon at the latest 2 days before, and until 12:00 noon on Thursday at the latest for weekday dives and pay the diving fee to the bank account of Istanbul Aquarium. must be.
Diving reservations can be made by informing dalis@istanbulakvary.com or by calling 444 97 44. (For direct transportation, you can get detailed information by calling 0553 244 87 98 between 10:00 and 18:00.)
Diving Cancellation
After the diver is given diving information by the instructors and taken into the water, no refund will be made if the diver fails to dive due to reasons arising from the diver and his inability to fulfill his in-water qualifications.
No refunds will be made for diving cancellations made after 12:00 on Thursday for the last 24 hours on weekdays and on weekends.
Diving of divers who do not obey the diving rules are stopped and the fee paid by the visitor is not refunded.
Fish Feeding Hours  : 
Feeding Hours
Would you like to be there for a feeding session of many fascinating creatures, from sharks to crocodiles?
Turkey's largest, the world's largest thematic aquarium in Istanbul in the aquarium, you can also watch the feeding sessions held regularly every day, is located within the aquarium, you can witness the feeding process closely to live!
You can follow this educational show, where our expert aquarists feed the interesting creatures living in the aquarium, from the tunnel in the Mid-Atlantic area, acrylic in the West Atlantic area and the half tunnel in the Panama area.
Main Tank – Sharks and Other Creatures
Feeding sessions of nurse sharks, stingrays, groupers, guitar sharks and other creatures in the main tank are held every day except Mondays at 11:00 in front of the Panama Tunnel. On days of diving with sharks, feeding starts at 10:30. The sand tiger sharks' feeding sessions are held on Wednesday and Sunday at 14:30 in front of the West Atlantic main panel.
Rainforest – Cayman Crocodiles
The feeding sessions of caiman crocodiles, located in the Rainforest section of Istanbul Aquarium, start at 16:00 on Saturdays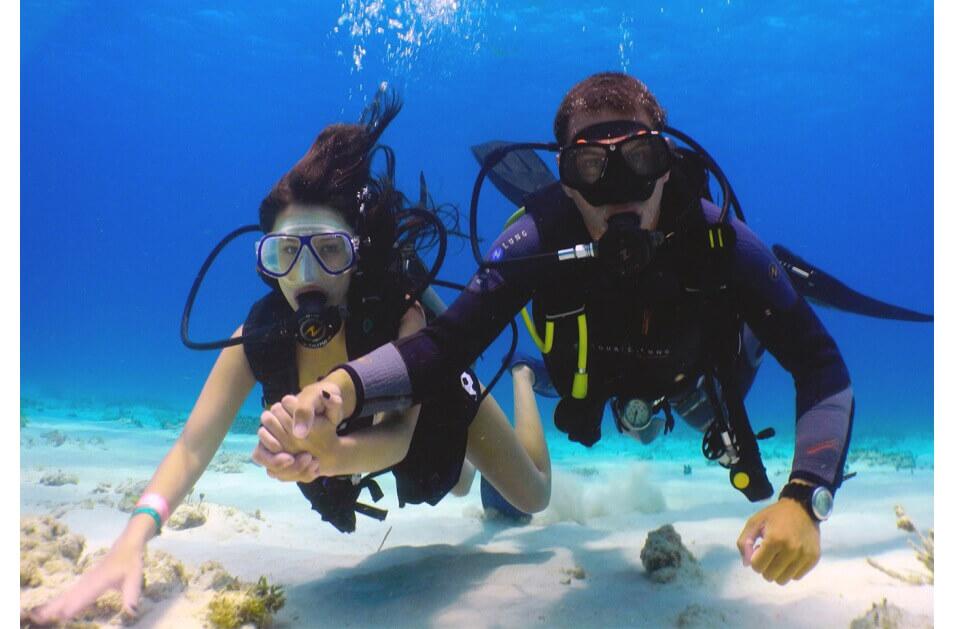 Aquarium Istanbul Diving Training :
If you want to take scuba diving training, you can choose diving courses conducted by expert instructors at the Boğaziçi Underwater Research Center in accordance with CMAS (Confédération Mondiale des Activités Subaquatiques – Confederation of World Underwater Activities) standards. By successfully completing the courses, in which the necessary diving equipment is provided by the program, which do not require any preconditions other than swimming, you can get the certificate of your desired certification system.
Scuba Diving Training
As sportive diving soon became popular, CMAS was founded on January 10, 1959 by a group including Jacques Cousteau. The CMAS, which aims to standardize and further develop the sports underwater activities in its member countries, is affiliated with the federations of 83 countries in 5 continents. It is currently the only valid document CMAS diving badge in the relevant laws and regulations in Turkey. Turkey in the CMAS Underwater Sports Federation (Turkey Underwater Sports Federation) is represented by. Our diving courses, given within Istanbul Akvaryum, are given by CMAS instructors according to CMAS standards.
Prerequisites
To attend the course, it is sufficient to know how to swim and to get a doctor's report that you can do SCUBA diving. The form to be used in the doctor's report can be obtained from our company. No diving gear has to be purchased. All diving equipment will be provided free of charge throughout the course. Before sea dives; It is necessary to attend classes, to be successful in pool studies and theoretical exams.
Diving Course Price
The course fee we recommend is CMAS certified training, and course fees include theoretical training (12 hours), textbook, pool work, all diving equipment to be used in pool work and sea dives. Those who successfully complete the program receive their badge by choosing the certificate of the certificate system they want.
Course Fee: 1700 TL + VAT (Theoretical diving, aquarium diving and sea diving included)
Not included in the course fee: Transportation to the diving area and accommodation
Course program
The course consists of theoretical lessons, practical pool exercises and open sea diving.
Theoretical Courses:
Courses where the 12-hour program is completed on Saturday – Sunday (10:00 – 16:00); It opens on the 3rd weekend of every month.
Weekend courses are held between 19:30 and 21:30 on Tuesdays and Thursdays, and last for 3 weeks. It starts on the first Tuesday of every month.
Special courses are organized for groups of 6 people and more.
Diving courses are also offered in English, French and German.
Sea Dives:
It is necessary to spare at least 2 days to get a badge. Sea dives will be made in the South and in the Marmara Region (Saroz, Çanakkale, Gökçeada, Bodrum, Fethiye, Marmaris or Kaş). The closest dives are the daily dives in Yassıada and Sivriada regions in Istanbul. At least two of the dives will take place in the Aquarium, except for the Main Tank.
Those who have completed 4 dives will be able to do their 5th dive with sharks in Istanbul Akvaryum Anatank.
Safety will be prioritized in diving and instructor, and the student / instructor ratio will not exceed 2/1 in pool dives and first sea dives.
Additional Information for Corporate Courses:
Diving sport is beyond a simple hobby today. From an institutional point of view, it provides a real solidarity, positive emotions and creativity to create team spirit.
If requested, private, closed group courses are organized for institutions. Theoretical lessons for groups of more than 6 people can be done in their offices.
Gift Shop :
After visiting Istanbul Aquarium, the world's largest thematic aquarium, don't forget to visit our gift shop at the exit and take a look at our aquarium's special gift / souvenir products!
It is possible to find many beautiful and high quality original products, from colorful toys to various souvenirs and ornaments, from magnet types to accessories and trinket models, in our gift shop. You can keep our special products offered in our store as a souvenir of your aquarium trip, or you can consider them as a nice and meaningful gift option especially for your relatives who are interested in marine life.
If you happen to be in Istanbul Aquarium, we are waiting for you in our gift shop before you go!
Event Organization & Venue Rental
Istanbul Aquarium, the largest thematic aquarium in the world, offers you the opportunity to realize your events and special days in a different and interesting ambiance with its event organization and space rental services. It is possible for your guests to have an unforgettable experience in the special areas of our aquarium, which you can rent for many activities from movie shooting to special invitations and fashion shows.
Let's take a look at the highlights of the activities you can perform in the fascinating atmosphere of Istanbul Akvaryum, which offers you many venue options with its 64 tanks and 16 thematic areas:
Wedding & Wedding Organization
Cocktail
Photo Shoot
Fashion show
Meeting / Launch
By choosing our aquarium, you can make the above and many other activities even more impressive in an original underwater concept where you can see interesting sea creatures up close.
If you want to make your special and important days unforgettable at Istanbul Aquarium, you can contact us at the following number and e-mail address, and get detailed information about the event organization – venue rental conditions:
Email :  Tour@shivar.net

Aquarium Istanbul Photo Shooting :
Would you like to immortalize your visit to Istanbul Akvaryum, where you will have an unforgettable experience?
With the professional photo shooting service offered to you with the quality of MG Photography, it is possible to take photos in front of the green screen, reflect the magical ambience of the underwater world with all its beauty on 5 different backgrounds and have memories that will remind you of your trip to Istanbul Aquarium!
MG Photography, which has been providing photography and camera services since 2003; With its expert team, professional studio and state-of-the-art digital printing systems, it is waiting for you at Istanbul Aquarium!
Refrence :  https://www.istanbulakvaryum.com/tr/