Address :  Paradise Island Resort & Spa Lankanfinolhu North, Maldives
Paradise Island Resort Maldives :
Imagine a secluded island with bright white beaches, a lagoon awash in deep blues and aquamarines, and soaring coconut palms swaying in the breeze. A network of paved pathways winds through the lush grounds, connecting the oceanfront accommodation, gourmet dining spots, sports facilities, and an inspiring spa. This is Paradise Island Resort & Spa – a luxury resort in the Maldives where unforgettable experiences await.
We offer a wide selection of accommodation at Paradise Island Resort. From spacious bungalows with direct access to the beach to luxury villas with private hot tubs, each one of our properties is designed to help you make the most of your time in paradise.
Accommodation :
From spacious bungalows with direct access to the beach to luxury villas with private hot tubs, each one of our properties is designed to help you make the most of your time in paradise.
Garden Villas are located in the quiet garden area of the Paradise Island resort & Spa. This room offers the basic facilities and a peaceful environment, with the beach easily accessible within a minute's walk.
Room Amenities:
"We were in our superior beach bungalow within 20 minutes of arrival on the island. First impressions of the room where great especially the view directly onto the beach. Could not fault anything in the bungalow. Very spacious, lots of wardrobe space, large bathroom with a bonus of an external garden shower. and even a small washing line. Large terrace from our bungalow with 2 chairs and table plus 2 sunbeds with mattresses. Only 30 steps to the oceans edge which is crystal clear-lots of sharks, different types of fish all swam around us – we also had a manta ray join us on a few occasions how amazing"
Set just behind the beach tree line, our Superior Beach Bungalows provide the ultimate in tropical luxury.
Inside the room is everything you need for a relaxing stay, from tastefully designed, comfortable furniture and satellite television to air conditioning. The tiled veranda is an idyllic place for an afternoon of reading or enjoying the ocean breeze, and the refreshing lagoon that surrounds the island is just a few steps away.
Room Amenities:
Enjoy a breathtaking sunset, while lying on your private beach Cabana at the Sunset Beach Villas of Paradise Island Resort. Comfortably equipped with modern amenities and facilities, these Villas are ideal for a dream getaway in the Maldives.
Room Amenities: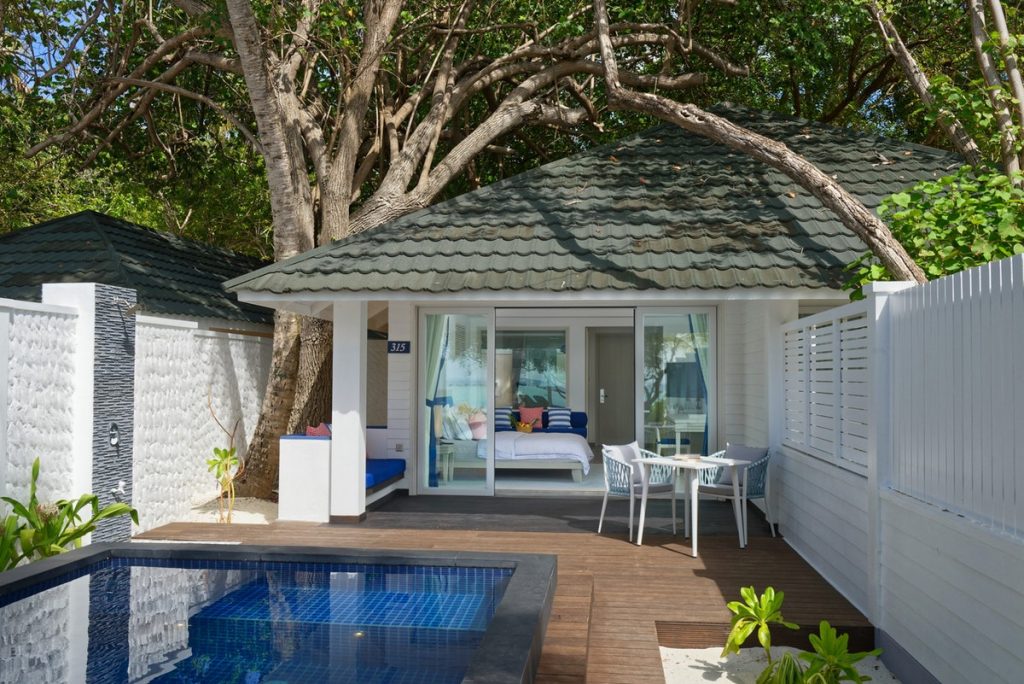 Bask in the afternoon sun on your private beach lounger while your loved ones enjoy the private pool at the Beach Pool Villas of Paradise Island Resort.
Room Amenities:
These rooms offer modern design and amenities with a view of the enchanting lagoons, a distinct Maldivian experience.
Room Amenities:
Our magnificent, semi-detached Water Villas are bright, spacious, and luxuriously furnished.
Each water bungalow features its own staircase leading into the crystal clear lagoon below – the perfect place for swimming or snorkeling. Spend your days relaxing only a few feet above the blue waters of the Indian Ocean, soaking up the sun while being pampered by our attentive staff.
Room Amenities: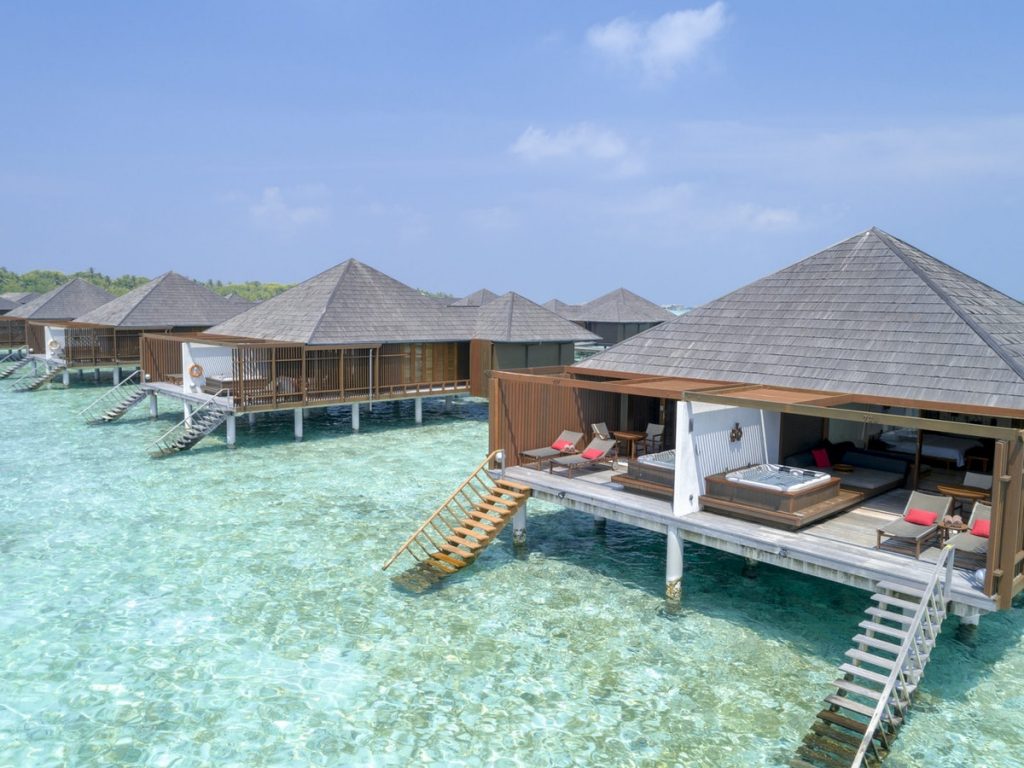 Our Jacuzzi Water Villas are built on stilts directly above the water and offer the ultimate in comfort and luxury. Each one features a private Jacuzzi and staircase leading into the lagoon, as well as a sundeck where you can enjoy spectacular views of the crystal clear lagoon.
Room Amenities:
The Lagoon Suites can be found in the beautiful lagoon. Each one features a bedroom and a living room with walk-in wardrobe. Outside, a spacious private veranda with comfy sun beds provides access to an outdoor freshwater private pool with panoramic views of the magnificent Indian Ocean.
Room Amenities:
Relax in your spacious, two-bedroom villa complete with a luxurious living room and walk-in wardrobe. Enjoy exclusive use of the private infinity pool and soak up magnificent views of the breathtaking, crystal clear lagoon and the ocean beyond.
Room Amenities:
Paradise Resort Restaurant:
With traditional Japanese and Italian restaurants, as well as our Farumathi Restaurant which serves the freshest Maldivian seafood, here at Paradise Island Resort & Spa, we have something to suit every taste.
SOMETHING TO SUIT EVERY TASTE
Paradise Island Resort & Spa is home to a range of different restaurants and bars. Tuck into delicious Italian-inspired cuisine, feast on traditional Japanese dishes, or enjoy a romantic dinner for two overlooking the lagoon.
Lagoon Restaurant
Haven Main Restaurant
AN UNFORGETTABLE DINING EXPERIENCE
Our Lagoon Restaurant is nestled amidst the water villas and offers breathtaking views of the surrounding ocean. A meal here will always be an unforgettable experience. The restaurant is open for breakfast, lunch and dinner, and specializes in catering to those who are in Water Bungalow rooms or have pre-booked their meals.
Opening times
Breakfast: 7:30 – 10:00
Lunch: 12:30 – 14:00
Dinner: 19:30 – 21:00
Ristorante Al Tramonto
Italian Restaurant
OUR CAPTIVATING ITALIAN RESTAURANT
Located at the end of the main jetty, overlooking the ocean, Ristorante al Tramonto offers the perfect romantic dining experience.
Opening times
11:00 – 23:00
Farumathi
Sea Food Restaurant
SAMPLE THE FRESHEST MALDIVIAN SEAFOOD
The seafood restaurant on the edge of the reef is where you can enjoy breathtaking sunrises over the Indian Ocean. It offers a unique dining experience with a relaxed ambience and serves a variety of seafood including the Maldivian lobster.
Opening times
11:00 – 00:00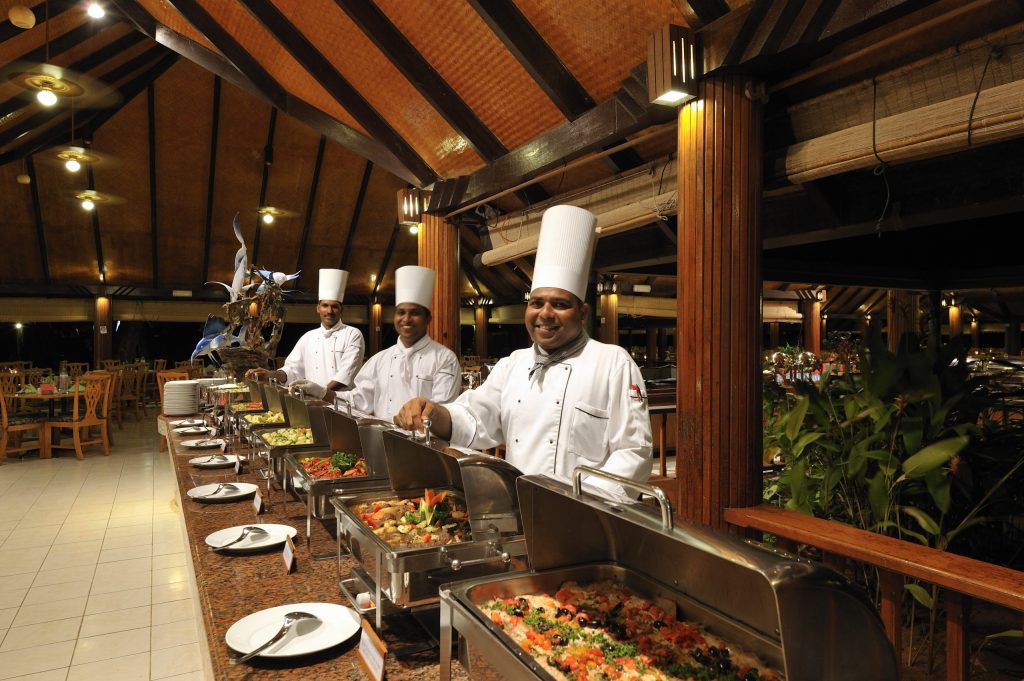 Bageecha Restaurant
Buffet Restaurant
DELICIOUS DINING WITH BREATHTAKING VIEWS
Discover why the main restaurant at Paradise Island Resort & Spa is regarded among the best restaurants in the Maldives year after year. Serving sumptuous, buffet-style breakfasts, lunches, and dinners, this breezy restaurant perfectly captures the island spirit with alluring Indian Ocean views. A full continental European or English breakfast is available every day, and a wide variety of continental, Asian and Maldivian cuisine is served at lunch and dinner.
Opening times
Breakfast – 7:30 – 9:30
Lunch – 12:30 – 14:00
Dinner – 19:30 – 21:00
Fukuya Teppanyaki
Japanese Restaurant
TRY TRADITIONAL JAPANESE CUISINE
The Japanese restaurant offers a complete à la carte menu with a variety of dishes. Experience the excitement of live teppanyaki-style cooking as the chefs prepare your favourite seafood, chicken and steak, or fresh sushi and sashimi. A wide selection of sake and Japanese beers are also available.
Opening times
Lunch: 11:00 – 17:00
Dinner: 19:00 – 23:00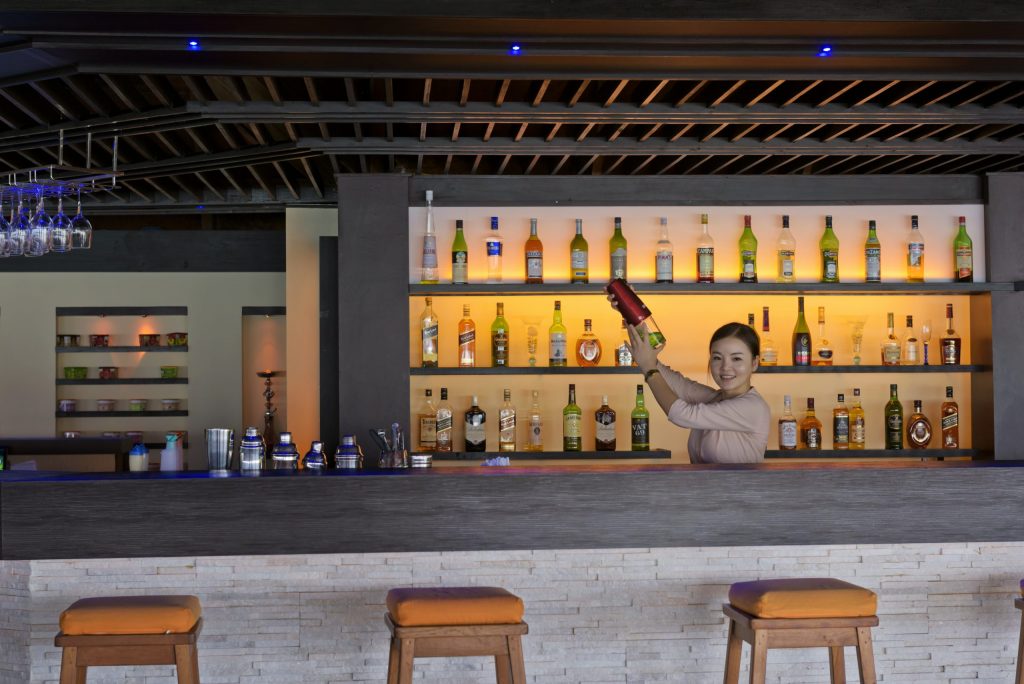 Maldivian nightlife means something different to every guest. If quiet cocktails and a glorious sunset are all the entertainment you need, there's no better place than under the thatched parasols of the Beach Bar. The Paradise Bar is the main bar of the resort. Overlooking the ocean and pool, this vibrant space is perfect for relaxing after a day in the sun. Live bands and the resort's DJ make appearances throughout the week, and the energetic dance floor becomes the centre of activity and attraction once the sun goes down.
Opening times
10:00 – 17:00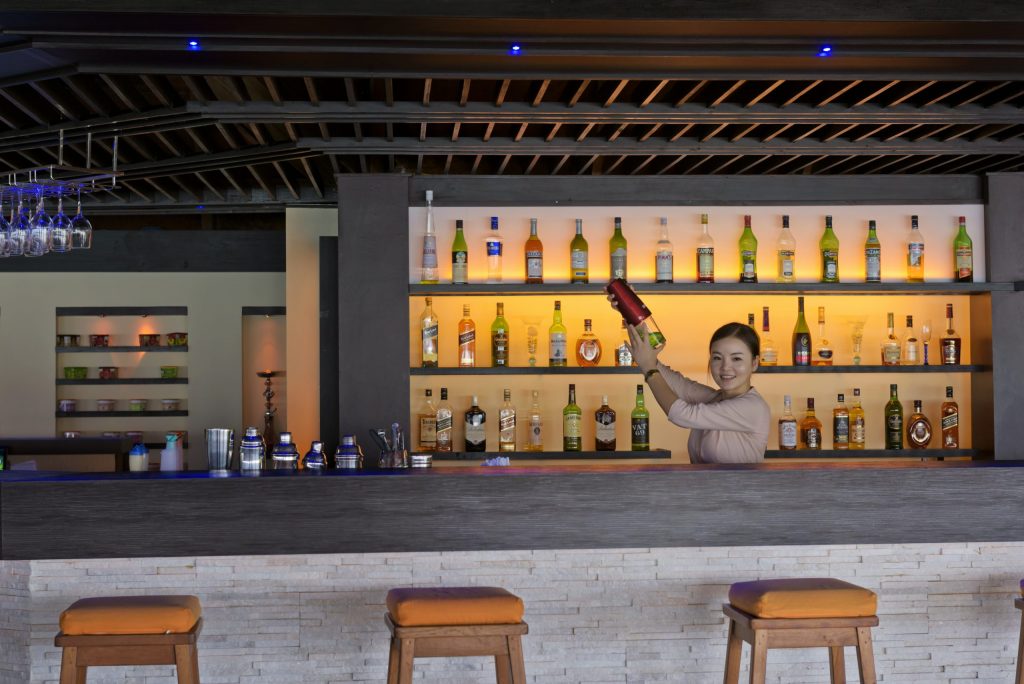 Paradise Resort Activities:
There are endless new experiences to discover at Paradise Island. Embark on a deep sea fishing trip, explore the nearby coral reefs, or simply relax with a cocktail by the pool – the choice is yours.
YOUR MALDIVIAN ADVENTURE STARTS HERE
From deep sea fishing and diving excursions to days by the pool, there's plenty to keep you and your family entertained here at Paradise Island Resort & Spa.

FROM SHOPPING SPREES TO WHALE WATCHING
Paradise Island Resort & Spa charter more fishing trips than any other resort in the Maldives. We invite you to enjoy it early in the morning or with a group at sunset. Try trawling for tuna or head out to the high seas for a big game fishing adventure. Or glide through the Indian Ocean depths on a whale submarine. To see the islands from a truly breathtaking perspective, hop aboard a seaplane for a photo flight tour. For a delightful change of pace, visit one of the many nearby resorts or catch a glimpse of daily Maldivian life in one of the fishing villages. Or if city living is more your style, allow us to plan a day of shopping and sightseeing in Malé – the islands' vibrant capital city.
– Snorkeling
– Submarine trip
– Island hopping
– Night fishing
– Morning fishing
– Big game fishing
– Sunset cocktails on the high seas
– Deep sea fishing
– Photo flight by sea plane
DISCOVER THE WONDERS OF THE INDIAN OCEAN
The North Malé Atoll is among the best diving destinations in the Maldives, and no holiday to Paradise Island Resort & Spa would be complete without an underwater adventure. Our dive excursions are the perfect way to discover the colorful reefs, ancient coves, and abundance of tropical sea life that surround the island. And if you're looking to hone your diving skills, or simply gain more confidence in the water, you can enroll in one of the diving courses at our dive center, Dive Oceanus.
The team at Dive Oceanus host daily excursions to nearby dive sites. Whether you're new to diving or have years of experience, you can discover beautiful sea life and extraordinary displays or coral.
Dive Oceanus is run by experienced multilingual staff who offer hands-on coaching that is tailored to your level of experience. All equipment is provided, and courses range from beginner to PADI Dive Master.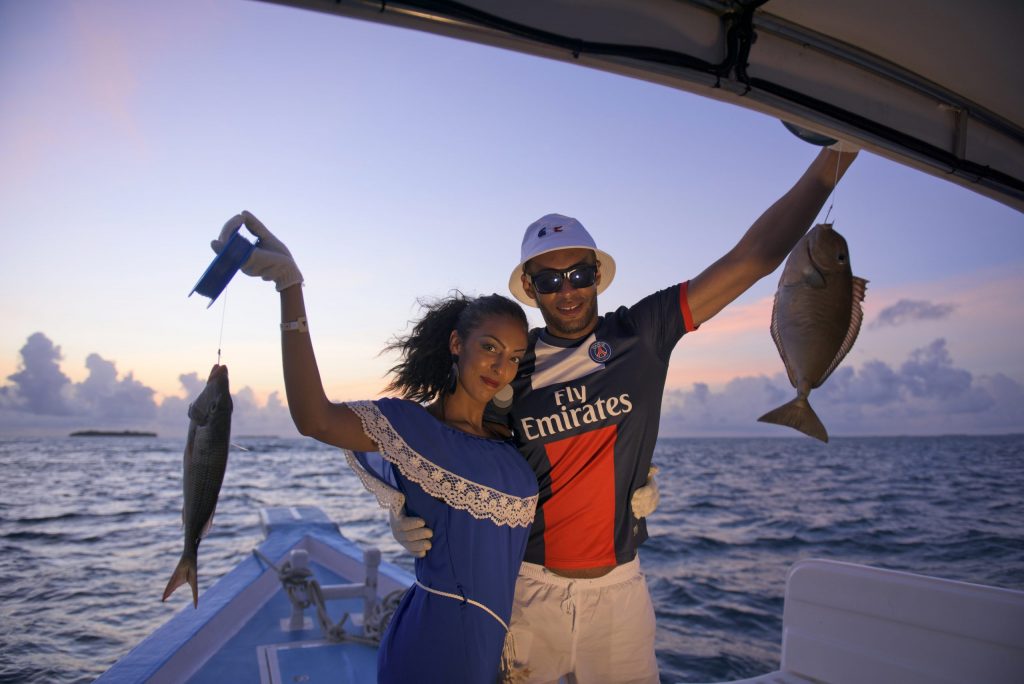 Sports & Recreation
Outdoor & Indoor
Finding fun ways to exercise is easy at Paradise Island Resort & Spa. Our gymnasium features state-of-the-art equipment – ideal for both cardio and strength training. Elevate your heart rate by jogging on the treadmill, or tone up and strengthen with dumbbells. From basketball, volleyball, and fishing to table tennis and billiards, you could play a different sport every hour of the day. Or, you could just spend the afternoon snoozing on the beach.
– Day and night fishing
– Island hopping
– Big game fishing
– Aerobics
– Basketball
– Volleyball
– Billiards/snooker
– Floodlit tennis courts
– Indoor badminton
– Squash
– Table tennis
– Gymnasium
WATERFRONT LUXURY AT OUR MALDIVES BEACH RESORT
The beach, the placid waters of an azure lagoon, and the sparkling Indian Ocean extending towards the horizon. This is the dazzling playground surrounding Paradise Island Resort & Spa. Overlooking a pristine ribbon of shoreline, this beautiful beach resort celebrates the wonders of the sea. Lounge on the beach under a large umbrella, enjoy an invigorating stroll along the waterline, or simply relax after taking a dip in the bracing waters of our swimming pool. Escape to our Maldives beach hotel and see just how wonderful life on the water can be.